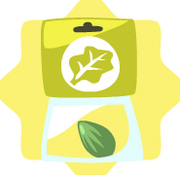 This article is about the item Vegetable Seed. For information about all types of vegetable seeds, see Vegetable Seed Types.
The Vegetable Seed (also known as a Normal Vegetable Seed) is a type of vegetable seed that, when planted in a pet's garden, grows into one of eight possible types of vegetables.
This seed can be purchased at the Garden Store. It can also be dug up at the Town Forest location of the Treasure Hunt.
After planting, it takes 24 hours for the vegetable to grow. After the 24 hours a player can either pull the vegetable out of the ground or let it sit in the ground for extra days.
Seed Item Summary
Cost: 200 coins
Sells for: 33 coins
Recycle: 200 points
Added: 9 April 2010
Removed: No
Different types of Vegetables
There are currently eight kinds of vegetables that can be grown from the seed.
Ad blocker interference detected!
Wikia is a free-to-use site that makes money from advertising. We have a modified experience for viewers using ad blockers

Wikia is not accessible if you've made further modifications. Remove the custom ad blocker rule(s) and the page will load as expected.