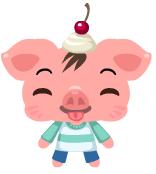 Truffles
is a non-player
character
in Pet Society who owns the
Food Store
. He is mostly depicted as hungry or having just eaten food.
In-game description
The saying goes that people who work in chocolate factories quickly find themselves sick of the sight of it, but that doesn't seem to apply to Truffles. Truffles lives, breathes, dreams and, well, eats food, so starting a food shop in the village seemed like a great way to make sure he could surround himself with it at all times.
There's only one issue. Truffles is also a notorious hoarder, which can pose a problem when people want to actually buy food from him. Commonly a conversation might go:
"Have you got any apples today, Truffles?"
"Nope, none, sorry! Come back tomo-"
"Truffles, I can see the apples over there."
"Oh THOSE apples. No, sorry those apples are, ah, broken. Yes, they're broken."
"What BROKEN?"
"*snort*"
Ad blocker interference detected!
Wikia is a free-to-use site that makes money from advertising. We have a modified experience for viewers using ad blockers

Wikia is not accessible if you've made further modifications. Remove the custom ad blocker rule(s) and the page will load as expected.