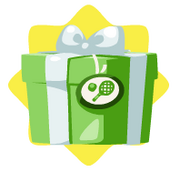 The Tennis
Bundle
is a collection of decorative objects and clothing items sold in the Cool Stuff section of the the
Market.
It was introduced to the game on June 21, 2010.
Item Summary
Cost: 4000 coins
Sells for: 1333 coins
Recycle: 8000 points
Giftable?: Yes
Buying the bundle is cheaper than buying all the items individually. Purchasing all items individually would cost 7000 coins, while buying the bundle saves 3000 coins, a savings of 42% off the full price.
Some people may be reluctant to buy the bundle since they have a pet they have decided is one type of gender. However, some may still find it advantageous to buy the bundle, if they like some of the items that are supposed to belong to the other gender. Some items that can be gender-neutral include the orange tennis racket, the purple sports shades, the purple tennis shoes, the purple tennis visor, and the purple tennis arm band.
Key points:
Buying just the "boy" items (excluding pink and purple-themed items) or buying just the "girl" themed items (excluding blue / black / orange-themed items) would cost 3600 either way, and costs less than the bundle.
If you like, the "girl" or "boy" themed items can be sold for a profit of around 1200 coins - bringing the cost of your items down from 4000 to 3800 coins. If you keep the orange racket and other gender-neutral items, you will actually be saving money when you sell off the items you do not want.
Note that the bundle comes with only one of each of the arm bands. If you would like two (one for each arm), you will need to buy the extra one seperately.
The bundle contains the following 26 items:
Ad blocker interference detected!
Wikia is a free-to-use site that makes money from advertising. We have a modified experience for viewers using ad blockers

Wikia is not accessible if you've made further modifications. Remove the custom ad blocker rule(s) and the page will load as expected.