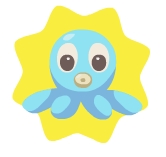 The
Squitty
doll is said to be one of the rarest toys in Pet Society. As of December 18, 2009, the Squitty doll is even rarer due to it being removed from the Gold Mystery Boxes. It currently sells for 999 coins and can be recycled for 6,000 recycle points.
Item Summary
Cost: See Expensive Mystery Box
Sells for: 999 coins
Recycle: 6000 points
Giftable?: Yes
Added: Before March 2009
Removed: December 18, 2009
Ad blocker interference detected!
Wikia is a free-to-use site that makes money from advertising. We have a modified experience for viewers using ad blockers

Wikia is not accessible if you've made further modifications. Remove the custom ad blocker rule(s) and the page will load as expected.