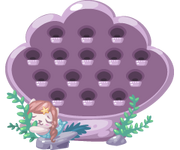 The
Hideeni Shells
are a set of 15 shells given out by
Hideeni
while he was dressed in a Pink Octopus Costume. Collecting all shells in this set did not give you any completion award.
The Furniture Store and Market sold a special Shell Display Case when you could showcase all of the shells that you have collected.
From the blog:
Hideeni has returned from his vacation and dress as an octopus will be handing out seashells. He also brought back a beautiful Shell Display Case to display the beautiful souvenir collection on (can be found in the Furniture Shop-Living).
Shell Summary
Cost: Free
Sells for: 33 coins
Recycle: 200 points
Giftable?: No
Added: 29 July 2010
Removed: 8 September 2010
Shells in Collection
Ad blocker interference detected!
Wikia is a free-to-use site that makes money from advertising. We have a modified experience for viewers using ad blockers

Wikia is not accessible if you've made further modifications. Remove the custom ad blocker rule(s) and the page will load as expected.