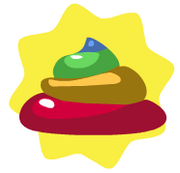 Rainbow Poo
is an extremely rare type of poop created by your pet. Like the regular poo, it is animated and jiggles up and down. It is larger than normal
Poo
and
Golden Poo
.
To learn how to make your pet poo, see the Pooping article.
Due to rampant hacking and cloning of the Rainbow Poos, you can only have one Rainbow Poo in your inventory. Any extra poos will be automatically sold. Your pet will only poop a Rainbow Poo if you do not already have one.
Warning: Is very easy to get rid of a poo by mistake. If you click on your poo, it will disappear and you will get one coin. The only way to handle the poo is to open your chest. You can then grab the poo and move it around or gift it.
Item Summary
Cost: Free
Sells for: 20 coins
Recycle: 122 points
Giftable?: Yes
Added: March 2009
Removed: No
Ad blocker interference detected!
Wikia is a free-to-use site that makes money from advertising. We have a modified experience for viewers using ad blockers

Wikia is not accessible if you've made further modifications. Remove the custom ad blocker rule(s) and the page will load as expected.