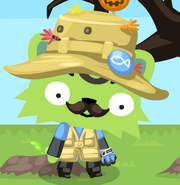 The
Pro Fishing Gear
is a set of three
Playfish Cash
clothing items. When worn, each piece gives a player a certain advantage when
fishing
in the
pond
. Each piece is purchased individually.
The Pro Fishing Hat prevents your pet from catching Decorative / Junk items. You will only catch fish.
The Pro Fishing Glove reels fish in faster with less struggles from the fish.
The Pro Fishing Vest prevents your pet from catching any fish where you already have the five maximum. For example, if you have five Squid (this includes all Squid you have in your inventory and around your house) then you will no longer catch Squid. Without the vest, you will continue to catch squid but you will get a message telling you that you have too many. In that case, you do not get a fish and you do not get your bait back.
When the set is worn all together, it unlocks a special set of Pro Fish to catch. You will still catch all of the regular fish as well when wearing this set - you are not limited to just the Pro Fish.
Pro Fishes
All of the Pro Fish can be caught using any type of bait - the only requirement is to be wearing all three pieces of the Pro Fishing set at the same time.
Ad blocker interference detected!
Wikia is a free-to-use site that makes money from advertising. We have a modified experience for viewers using ad blockers

Wikia is not accessible if you've made further modifications. Remove the custom ad blocker rule(s) and the page will load as expected.