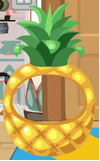 The
Pineapple Mask
is a clothing object that looks like a yellow version of Hideeni's pink pineapple costume. It is a mask and is worn on the face.
This mask is awarded for collecting all 12 of the Hideeni Fruit Plushies. It cannot be bought at any of the stores.
Item Summary
Cost: Free
Sells for: Cannot be sold!
Recycle: Cannot be recycled!
Giftable?: No
Added: 9 September 2010
Removed: No
Ad blocker interference detected!
Wikia is a free-to-use site that makes money from advertising. We have a modified experience for viewers using ad blockers

Wikia is not accessible if you've made further modifications. Remove the custom ad blocker rule(s) and the page will load as expected.