---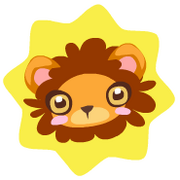 The
Petling Lion
(also sometimes called the
Petling Cub
) is a
petling
that is sold in the Petlings section of the
Outdoor Store
.
You must be Level 20 in order to buy this petling.
Item Summary
Cost: 2,500 coins
Sells for: 833 coins
Recycle: Cannot be recycled
Giftable?: No
Added: 5 March 2010
Removed: No
They are useful petlings as they eat cheaper food to save your coins.
Petling Food
The petling lion eats:
Petling Appearance
Your petling will be assigned a random appearance after you feed it for the first time. The only feature you have some control over is the color - if you do not like your pet's color, you can buy a Petling Biscuit for Playfish Cash and feed it to your pet.
A very helpful petling guide written by Jay P. is found in the Playfish forums at: http://forum.playfish.com/showthread.php?t=1665745.
Body
The Lion petling's body comes in the below colors:
Mane
There are 3 kinds of lion manes and 4 kinds of ears. The ears and manes can mix with each other. Not all ears are pictured.
Eyes
There are 2 shapes and 3 colors of eyes: brown, yellow and green. Not all colors are pictured.
Tails
There are 4 types of tails. Not all are pictured.
Gallery of Lions
Below are pictures of lions. Feel free to add your own!
Ad blocker interference detected!
Wikia is a free-to-use site that makes money from advertising. We have a modified experience for viewers using ad blockers

Wikia is not accessible if you've made further modifications. Remove the custom ad blocker rule(s) and the page will load as expected.