New Year Top Venting Machine was craftable item. It makes various tops with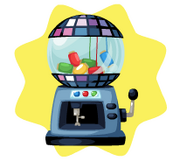 New Year atributes and more. Each top cost 150 Coins.
Example of tops:
There are two types of tops:
12 pictures on them: And 7 colours of tops:
Item Summary:
Vending Machine:
Cost: Free (until 9 January, 2013)
Sells for: 924 Coins
Recycle: 1,848 Recycle Points.
Giftable?: No.
Added: ???
Removed: No (Can be bought at Clothe Store for 15 PSC).
Top:
Cost: 150 Coins.
Sells for: 49 Coins.
Recycle: 300 Recycle Points.
Giftable?: Yes.
Added: Same date as Vending Machine.
Removed: No.
Ad blocker interference detected!
Wikia is a free-to-use site that makes money from advertising. We have a modified experience for viewers using ad blockers

Wikia is not accessible if you've made further modifications. Remove the custom ad blocker rule(s) and the page will load as expected.