The
Nannybot
is a special item that is sold in the
Boutique
and the
Market
. It was also sold in the now-defunct
Gadget Shop
. This is the only item that sells for normal coins instead of Playfish Cash in the Boutique.
Item Summary
Cost: 400 coins
Sells for: 133 coins
Recycled: 800 points
Giftable?: Yes
Added: 12 November 2009
Removed: No
Game Use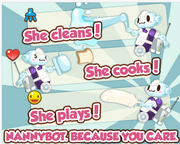 The Nannybot will feed, clean, and play with your pet while you are both online and offline. This means that when your pet's
Hygiene
and
Health
bars decay, the Nannybot will feed and bathe your pet without any prompting from you. Whenever you log in, your pet will be fully healthy and cleaned. You can also click on the Nannybot when you are online and she will interact with your pet to clean and feed them. If you visit friends with a functional Nannybot, you can get fed and cleaned by her. Likewise, friends visiting you can take advantage of your Nannybot.
The Nannybot requires batteries to run, which cost Playfish Cash. This is why the Nannybot is sold in the Boutique - she is useless without batteries. There are two kinds of batteries:
Once the Nannybot runs out of battery power, she will just sit in your room.
Ad blocker interference detected!
Wikia is a free-to-use site that makes money from advertising. We have a modified experience for viewers using ad blockers

Wikia is not accessible if you've made further modifications. Remove the custom ad blocker rule(s) and the page will load as expected.