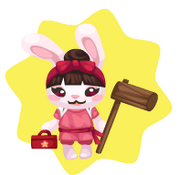 The Mochi Making Bunny is a bunny that can be purchased from Food Shop or Party & Gift section in the Market during the Japanese New Year week in 2012. After you have purchased this bunny, you can buy one mochi from it by clicking on the bunny. Each mochi costs 50 coins, you can buy as many as you like. There are 8 kinds of mochis in total.
Item Summary
Cost: 3500 coins
Sell for: 1166 coins
Recycle: 7000 points
Giftable?: Yes
Added: 3 January, 2012
Removed: Yes
Types of mochi
Ad blocker interference detected!
Wikia is a free-to-use site that makes money from advertising. We have a modified experience for viewers using ad blockers

Wikia is not accessible if you've made further modifications. Remove the custom ad blocker rule(s) and the page will load as expected.