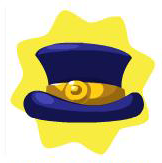 This is the hat that the Mayor wears (as it's name suggests). This item was the
Treasure Hunt
Weekly Special for July 30, 2010 - August 5, 2010.
You could only get this item by digging in the Town Forest during the featured week (it is no longer in the digging map) or trade for it.
Item Summary
Cost: Cannot be bought
Sells for: 100 coins
Recycle: 602 points
Giftable?: Yes
Added: July 30, 2010
Removed: August 5, 2010
Ad blocker interference detected!
Wikia is a free-to-use site that makes money from advertising. We have a modified experience for viewers using ad blockers

Wikia is not accessible if you've made further modifications. Remove the custom ad blocker rule(s) and the page will load as expected.