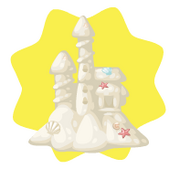 The Magnificent Sand Castle comes from Magic Sand, a TWS decorative object sold in the Furniture section of the Garden Store from June 21, 2010 until June 27, 2010.
The Magic Sand turns into one of three sand castles, of which the Magnificent Sand Castle is one. The Magic Sand has an equal chance of turning into any of these three.
This object is a decorative and sits either on the floor or on top of objects in a pet's home.
Item Summary
Cost: 1000 coins (Magic Sand cost)
Sells for: 333 coins
Recycle: 2000 points
Giftable?: Yes
Ad blocker interference detected!
Wikia is a free-to-use site that makes money from advertising. We have a modified experience for viewers using ad blockers

Wikia is not accessible if you've made further modifications. Remove the custom ad blocker rule(s) and the page will load as expected.