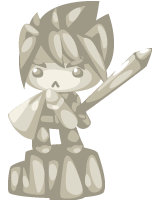 The
Magic Warrior Statue
is a
collaborative
decorative object. You can build as many as you like as long as it is available.
Building this object requires either 15 friends or 15 playfish cash. You must publish a story in your new feed and have 15 different people click on the link to get this for free. Alternately, if you do not have enough friends you can pay one playfish cash per click. For example, if you have ten clicks already, you can pay 5 PFC to finish the item. If you have no clicks, it will cost you 15 PFC.
This item sits on the floor of a pet's home and is Glow-In-The-Dark.
Item Summary
Cost: Free with friend's help
Sells for: 1980 coins
Recycle: 3960 points
Giftable?: No
Added: August 6, 2010
Removed: August 19, 2010
Ad blocker interference detected!
Wikia is a free-to-use site that makes money from advertising. We have a modified experience for viewers using ad blockers

Wikia is not accessible if you've made further modifications. Remove the custom ad blocker rule(s) and the page will load as expected.