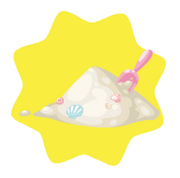 The Magic Sand is a TWS evolving decorative object sold in the Furniture section of the Garden Store from June 21, 2010 until June 27, 2010.
This object starts out as a pile of sand and one day later will permanently turn into one of three possible sand castles.
Some people have reported glitches with the sand - just as in the case of the Mystery Corsage Pot, the item does not evolve and may just stay in it's first stage, as a pile of sand. Playfish has announced they have corrected this glitch, but if you bought your sand and it has not evolved after a day, it probably won't ever, and should be sold.
Item Summary
Cost: 1000 coins
Sells for: 333 coins
Recycle: 2000 points
Giftable?: Yes
The three possible sand castles:
Ad blocker interference detected!
Wikia is a free-to-use site that makes money from advertising. We have a modified experience for viewers using ad blockers

Wikia is not accessible if you've made further modifications. Remove the custom ad blocker rule(s) and the page will load as expected.