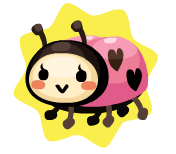 The
Little Bevy Ladybug
is an animated item that is awarded for completing the
Mayor's Lost Animals Quest
anytime during June 9 - 12, 2011.
When placed in a room in your house, the ladybug will walk around the floor. Your pet can't interact with it.
This ladybug is part of the second week items in the Garden Pals Collection. When you collect all items in this set, you will unlock the bonus room, the Romantic Garden.
Item Summary
Cost: Free
Sells for: 200 coins
Recycle: 660 points
Giftable?: Yes
Added: 9 June 2011
Removed: 12 June 2011
Ad blocker interference detected!
Wikia is a free-to-use site that makes money from advertising. We have a modified experience for viewers using ad blockers

Wikia is not accessible if you've made further modifications. Remove the custom ad blocker rule(s) and the page will load as expected.