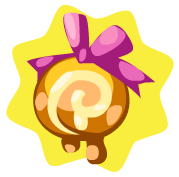 Homegrown Pink Candy
is a type of
homegrown fruit
grown on
Pink Candy Trees
in a pet's
garden
.
Food Item Summary
Cost: None (See Pink Candy Tree Seed)
Sells for: 85 coins
Recycle: 512 points
Health Restored: 35%
Added: July 16, 2010
Removed: July 27, 2010 (This tree seed has been removed; the fruit will continue to be produced as long as you have this tree in your garden).
Fishing
Homegrown Pink Candy can also be used to fish at the Pet Society Pond. They will catch common fish and decorative / junk items.
Cooking
They are not used in cooking. .
Ad blocker interference detected!
Wikia is a free-to-use site that makes money from advertising. We have a modified experience for viewers using ad blockers

Wikia is not accessible if you've made further modifications. Remove the custom ad blocker rule(s) and the page will load as expected.