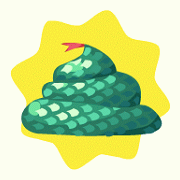 The
Evil Snake Poo
is a Harry Potter themed poo that is common. To learn how to make your pet poo, or to see all types of poos available in the game, see the
Pooping
article.
You can have a maximum of 99 Evil Snake Poos in your inventory. If you have three or more Evil Snake Poos in your inventory, your pet will stop pooping Evil Snake Poo. Your pet can still poo other types of poo.
Warning: Is very easy to get rid of a poo by mistake. If you click on your poo, it will disappear and you will get one coin. The only way to handle the poo is to open your chest. You can then grab the poo and move it around or gift it.
Item Summary
Cost: Free
Sells for: 1 coin
Recycle: 8 points
Giftable?: Yes
Added: 7 July 2011
Removed: No
Ad blocker interference detected!
Wikia is a free-to-use site that makes money from advertising. We have a modified experience for viewers using ad blockers

Wikia is not accessible if you've made further modifications. Remove the custom ad blocker rule(s) and the page will load as expected.