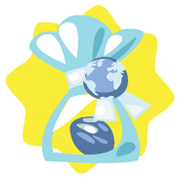 The Eco Tree Seed is a limited time tree seed which was available for purchase at the Garden Store between the dates of April 15, 2010 through April 30, 2010 and April 18, 2011 through April 25, 2011 for Facebook users of Pet Society.
When planted in a pet's garden, it grows into an Eco Tree which produces Homegrown Eco Fruit. It was part of a 2010 and 2011 Earth Day theme.
This seed originally cost 600 coins. It can be resold for 199 coins or recycled for 1200 recycle points.
Ad blocker interference detected!
Wikia is a free-to-use site that makes money from advertising. We have a modified experience for viewers using ad blockers

Wikia is not accessible if you've made further modifications. Remove the custom ad blocker rule(s) and the page will load as expected.