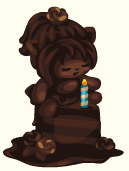 The Chocolate Birthday Statue is a item that is obtained by crafting.
Alternatively, you could buy it with Pet Society Cash.
When crafted or bought, the user would unlock the Vanilla Choco Pond digging map.
This item sits on the floor in the pet's room.
Item Summary
Cost: Free from Crafting
Sells for: 792
Recycled for: 1584
Giftable: No
Added: 28 August 2012
Removed: No
Ad blocker interference detected!
Wikia is a free-to-use site that makes money from advertising. We have a modified experience for viewers using ad blockers

Wikia is not accessible if you've made further modifications. Remove the custom ad blocker rule(s) and the page will load as expected.