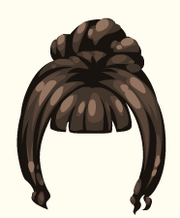 The
Casual Bunch Wig
is a
collaborative
object. You can build as many as you like as long as it is available.
Building this object requires either 10 friends or 10 playfish cash. You must publish a story in your new feed and have 10 different people click on the link to get this for free.
This is a clothing item. It sits on top of your pet's head.
Item Summary
Cost: Free with friend's help ( or 5pfc ? )
Sells for: 330 coins
Recycle: 660 points
Giftable?: No
Added: August 23, 2010
Removed: August 29, 2010
Ad blocker interference detected!
Wikia is a free-to-use site that makes money from advertising. We have a modified experience for viewers using ad blockers

Wikia is not accessible if you've made further modifications. Remove the custom ad blocker rule(s) and the page will load as expected.