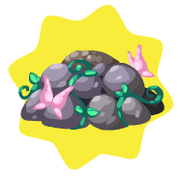 The
Butterfly Flower Plot
is a special pot that was sold in the
Garden Store
. It is animated with lady bugs opening and closing their wings.
This item is special because you can plant a flower seed in this pot, which can be placed anywhere in your home. The flower will grow in this just like a normal garden plot. You can harvest your flower from this plot by pulling up. Note that vegetable seeds and tree seeds cannot be planted in this plot.
Item Summary
Cost: 15 PFC (on sale for 12 PFC)
Sells for: 792 coins
Recycle: 1584 points
Giftable?: Only on point of purchase
Added: 15 April 2010
Removed: No
Glitches
Many people are experiencing glitches with all of the mobile plots. If you place the plot in your home, plant seeds in it, and log out for the day, when you log back in your plot will jump back into your chest. This seems to happen when the flowers become fully grown. You can see a forum thread here discussing this glitch.
One possible fix to this problem suggested in the forum is that after you plant the flower seed, put the plots back into your inventory chest, then pull them out again. You do not need to close the chest in between.
Ad blocker interference detected!
Wikia is a free-to-use site that makes money from advertising. We have a modified experience for viewers using ad blockers

Wikia is not accessible if you've made further modifications. Remove the custom ad blocker rule(s) and the page will load as expected.