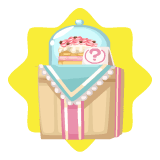 The Build a Cake Mystery Box is a mystery box that is sold in the Mystery Shop. This box contains one of the six Build a Cake bundles. The Build a Cake Mystery Box is now unavalible/discontinued. It is only avaliable during Easter Week 2011. Each bundle contains different components of a cake. You can mix and match the components anyhow you want.
Item Summary
Cost: 4 PFC
Sells For: 266
Recycle: -
Giftable?: Only at point of purchase
Added: Easter Week 2011
Removed: Yes (now has a #2)
Components
Decor
Top Swirl
Top Frosting
Cake Layer
1st Filling
2nd FIlling
3rd Filling
Cake Base
Items In Box
Ad blocker interference detected!
Wikia is a free-to-use site that makes money from advertising. We have a modified experience for viewers using ad blockers

Wikia is not accessible if you've made further modifications. Remove the custom ad blocker rule(s) and the page will load as expected.