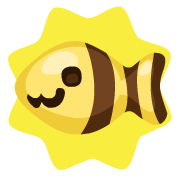 The
Bee Fish Bait
is a limited time
fishing
bait that is only available by clicking a banner ad below the Pet Society game. This is a buyable item that was never sold in stores.
When used as bait in the Pond, it will catch one of three possible bee themed fish. This item is consumable. Like all Specialty Baits, you can catch up to 20 of these fish instead of the usual 5.
If you catch all three fish in the set, you are automatically awarded the Buzzing Loppi Bee as a completion prize. This bee is part of the Garden Pals Collection which unlocks the Romantic Garden.
Item Summary
Cost: 100 coins
Sells for: 33 coins
Recycle: 200 points
Giftable: Yes
Added: 16 June 2011
Removed: 22 June 2011
Buying the Bait
You must be logged into Pet Society in order to see this banner, and you have to be in a game location where your pet can buy things - for example, you can buy the bait at home, around the shops, and when exploring the Neighborhood Page. The link will not work when you are at the Pond, the Stadium or digging in a Treasure Hunt location.
List of Fish
Ad blocker interference detected!
Wikia is a free-to-use site that makes money from advertising. We have a modified experience for viewers using ad blockers

Wikia is not accessible if you've made further modifications. Remove the custom ad blocker rule(s) and the page will load as expected.